Interesting Facts about Cockroaches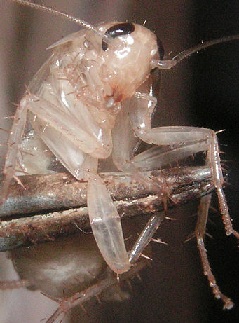 interesting facts about cockroaches
Cockroaches can live for up to two weeks with their heads cutt off (It diesdue to lack of water)! Interesting that cockroaches have white blood! They can live about a month without food, but only 1 without water.


The largest cockroach found in houses - American cockroach. They don`t get their wings untill they become adults and females can hatch up to 150-200 kids per year.
In Cabodia you can find very common snacks - Fried Cockroaches. They are very popular snakes together with fried rats and spiders.
---
Join in and write your own page! It's easy to do. How? Simply click here to return to Animal Facts For Kids.
Subscribe to our "Unbelievable Facts" Newsletter

Go back to homepage of Fun-Interesting-Facts.com - Submit your own facts